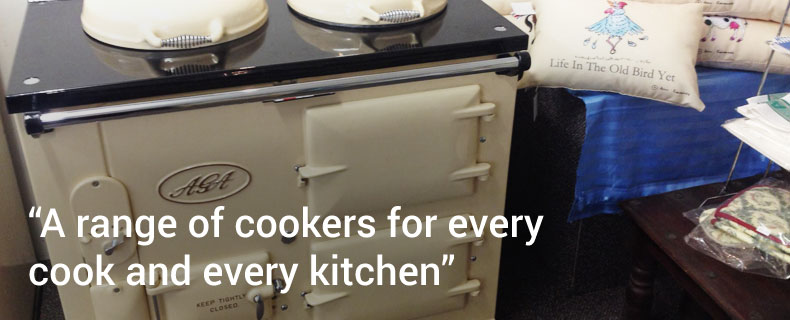 | | |
| --- | --- |
| | Aga Stoves and Cookers |
Today, the company behind the iconic Aga produces a range of cookers for every cook and every kitchen.

Most people associate Aga cookers with good food and fine living. Often thought of as quintessentially British, Aga cookers actually originally come from Sweden. The Aga cookers Range has now become the heart of the home in more than 750,000 households around the world.

As well as the traditional and much-cherished heat-storage cookers, there's the S Series collection of distinctly unconventional conventional cookers, the new Aga Masterchef and the hugely practical Aga Modules.

But there's also so much more to the Aga brand, including a range of distinctive conventional cookers, wonderfully cool refrigeration products, a massive collection of fabulous cookware and a line-up of Aga-branded stoves to suit every home.
The modern Aga contains state-of-the-art technology and is subject to rigorous quality and the latest environmental standards.
Your brand new Aga is made in the same way today as it has always been: by pouring molten iron into moulds. It gives the castings their characteristic surface (every one is unique) and helps Aga rise above the usual mass-produced uniformity.
Aga Food Tastes Better... a bold statement, but one that Aga owners and discerning chef's completely agree with. No knobs or dials to fiddle with, no timers or programmers that require a degree to operate, no oven preheating and no stress - simply open the door, add the food, and wait for the almost certainly delicious results.
How many cookers boast the ability to air laundry, boil the kettle, make perfect toast, dry flowers and herbs, roast hazelnuts and all this while creating a flawless Sunday Roast.
Reviews
Product: Aga S Series 6-4
Date: 27.05.08
Rating: ****
Advantages: Beautiful, Stunning looks & cost effective usage
Disadvantages: Lack the character of the traditional Aga's
The Aga s series 6-4 is a beautiful addition to my kitchen, also i have put it's ability to the test at christmas with a 20lb turkey with all the trimmings, i love to entertain and i bake so my aga is not just ornamental and so far i have had no difficulties. Also the simmering oven is fantastic for your veg (Anything that grows below the ground) bring to the boil and then strain, lid on and pop in the simmering oven. the aga saucepans are also brill and the 3litre shallow stainless steel and the 2 litre and the 1litre pots will fit in the simmering oven together. this cooker is a great option if you want the look without the extra heat. go to the aga demo to learn how to use your simmering oven to its best. the only thing missing is the traditional feel that you get with the heat storage aga, but then it is not on when we are not cooking so therefore has to be more cost effective
Summary: excellent alternative to the traditional aga if you don't need the heat